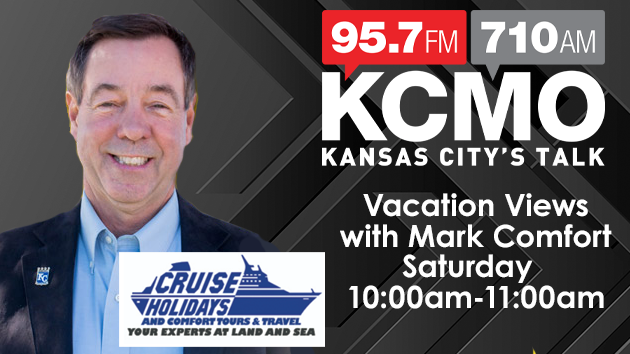 VACATION VIEWS WITH MARK COMFORT
Saturdays
10am to 11am
Mark has been hosting his weekly show Vacation Views for over 20 years!
Mark and Mimi Comfort, owners of Cruise Holidays of Kansas City/Comfort Tours and Travel, define extraordinary travel knowledge and service. Their companies mission statement is simply: WE WANT TO CREATE MEMORIES THAT LAST A LIFETIME.
Mark has been to 102 countries (so far) and he and his staff counsel from FIRST HAND EXPERIENCE OF BEING THERE, which they feel is the most important help they can give you. Matching you up with the best of all the options available is what truly sets them apart from any other travel agency or booking source.
November 4th 2018, Cruise Holidays of Kansas City and Comfort Tours will be celebrating 30 years in the vacation industry. Imagine the trips they have hosted, the destinations they have been to, but most important to them are their thousands of loyal happy customers they have served making their dream vacation a reality.
Congratulations to Mark and Mimi Comfort this November 2018 on their 40 years of marriage. Currently they reside in Weatherby Lake, Kansas City, MO. They have two fabulous children: Andrea, an immigration attorney along with her husband, Jorge, and two wonderful grandchildren, Chavi and Ariella.
Their son Spencer, much like his father, loves the Rocky Mountains in Colorado and currently resides in Dillon, CO. working for Vail Resorts. Mark and Mimi also have a second home in Copper Mountain, known to many of their friends and family as their "favorite getaway place".
Mark has been active in many community organizations:
Board of Trustees for Park University, Board of the Vineyard Church, Young Life, Parkville Rotary, the
Northland Breakfast Club and an avid lifelong Kansas City Royals and Chief's Fan. GO CHIEFS!!!
Tune in to Vacation Views every Saturday on KCMO 710Am or 103.7 FM to get the best deals and details about your next dream vacation destination should be. As Mark is often heard during his Vacation Views Show (every Saturday from 10 to 11am) Let us help find the perfect vacation for you : Ocean Cruises, River Cruises, All Inclusive Resorts, or Customized vacations. For 30 years, we are the Vacation Specialists!
Cruise Holidays of Kansas City
7000 NW Prairie View Rd -Ste 200
Kansas City, Missouri 64151
CLICK HERE ONTACT Cruise Holidays TODAY to BOOK your next TRIP!
OR Email directly to [email protected]