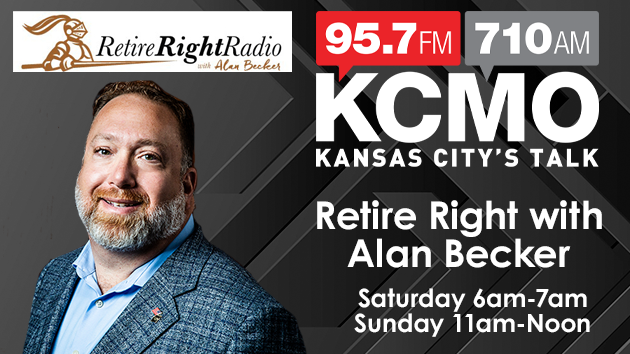 RETIRE RIGHT RADIO WITH ALAN BECKER
Saturdays | 6am to 7am
Sundays | 11am to Noon
Listen to Retire Right every weekend on KCMO Talk Radio with ALAN E. BECKER, President & CEO of Retirement Solutions Group & Investment Adviser Representative.
If you're retired, nearing retirement, or even just starting to think about what retirement may look like, begin your journey by tuning in to "Retire Right Radio with Alan E. Becker." Alan leads the team at Retirement Solutions Group to utilize superior tools and services to help clients pursue their financial independence. He and the team continually implement plans in clients' best interests as they strive to help them realize their retirement goals and the desired legacy they leave behind. Alan has passed the Series 65 securities exam and is insurance licensed in multiple states, including Kansas and Missouri. He is also the author of "Return on Investment or Reliability of Income? The True Meaning of ROI in Retirement."
He resides in Overland Park, Kansas, with his wife, Kristina, and their three sons, Dylan, Robert and Logan. He is a U.S. Navy Veteran and is very involved with veteran-related charity endeavors. Alan is proud of the fact that Retirement Solutions Group has an A+ rating with the Better Business Bureau.