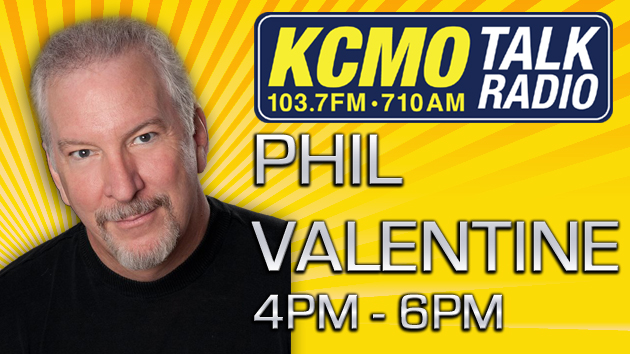 Catch the Phil Valentine Show every weekday from 4 to 6pm on KCMO Talk Radio 103.7FM and 710AM.
Check him out online at www.philvalentine.com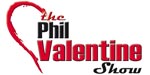 Growing up in a small North Carolina town, Phil Valentine would ride his bicycle to his father's law office across from the courthouse. Since his father and grandfather were both lawyers, there was little question in Phil's mind that he would follow in their footsteps. After arriving at college, however, a simple observation from a friend would change Phil's life forever. He noted that Phil had a "deep voice" and asked, "Why don't you get into radio?" Shortly after, Phil enrolled in a broadcasting school and within a year he landed his first job in radio.
After spending several years near his hometown, Phil got his first big break in Raleigh, but always had his eye on Nashville. He packed up everything he owned and moved to Nashville on faith and without a job. Within three months, this leap landed him a full-time job at a Top 40 station, which led to his move to then powerhouse WLAC-F. Three years after that, he had one of the highest rated morning shows in Nashville.
By 1991, Phil had his eyes on talk radio but had no experience in the format. To get his foot in the door he convinced the program director of sister station WLAC-AM to allow him to substitute for a weekend. His efforts paid off. The next Monday, the PD announced that Phil would replace the current morning talk host. Phil did double duty for a time, hosting the morning AM talk show and the afternoon FM music show.
After another switch back to FM, Phil missed talk radio and wanted a bigger challenge. He got it when Gaylord Entertainment jumped in to the talk radio business. Familiar with Phil's earlier work in talk radio, WWTN hired him as morning host. Leaving a highly successful music morning show on WLAC-FM was a gamble, but it paid off. The Phil Valentine Show debuted on WTN in June of 1995 and found an instant audience, drawing more listeners than both competing morning talk shows combined.
In the meantime, Phil had been freelancing doing TV commercials, which included a commercial for a station in Philadelphia. The owner and general manager visited Nashville and offered Phil a job as morning host in the fifth largest radio market in the country on WWDB-FM. Phil turned them down, not wanting to uproot his growing family. After four months of extensive auditions and no new host, WWDB management approached Phil again and convinced him to come to Philadelphia for a weekend. Once there, he had a change of heart. He instantly hit it off with station personnel and loved the area.
Within six months, his morning show went from ninth place to third in the market. He was now the most-listened-to talk show host in Philadelphia, outperforming talk show hosts with decades of experience in the market. In his first year, he won three Philadelphia AIR Awards (Achievement In Radio) for Best Talk Show, Best New Talent and Best Morning Show Host or Team. It was the first time in the history of the Philadelphia AIR Awards that one person had won three awards in a single year.
Despite the show's success, a change of ownership and a difference in opinion for the direction of the show led to a parting of ways for Phil and WWDB. Shortly after, he filled in at WABC New York and in April 1998, Phil made the journey back to the city he loved, Nashville. He arrived on the same day a series of tornadoes blew through downtown Nashville, slipped right into his new job and began his quick ascent back atop the local ratings. In 1999, he received the Silver
World Medal for Best Talk Show Host from the prestigious New York Festivals Radio Competition. The following year, he made another trip to the Big Apple to pick up the Gold World Medal.
Back in Nashville, Phil made a national name for himself by helping lead the now famous Tennessee Tax Revolt. He joined other talk show hosts to take on Tennessee's Republican governor and Democratic legislature as they tried, time and again, to push through a state income tax. After several years of battles, the issue reached a fever pitch in the summer of 2002. The Speaker of the House called for a vote but several backers succumbed to the throngs of protestors outside the Capitol that had been energized by talk radio. The measure was removed and the citizens of Tennessee were spared the burden of an income tax.
By 2003, Phil had received a total of eight Nashville AIR awards. His was the most listened to political talk show in the city, drawing a larger audience than all other hosts, both local and national, including Rush Limbaugh. Cumberland House, a best-seller publishing company, approached Phil about writing a book based on his conservative philosophy. Right from The Heart: The ABC's of Reality in America was released in September of 2003 and hit the Top 100 of Amazon.com bestselling books.
Late that year, Phil announced that he was leaving WLAC radio after 5 1/2 successful years. He spent six months writing another book and returned to the airwaves in July 2004 at SuperTalk 99.7WTN in Nashville. Within three months he was back on top as the most-listened-to political commentator in Nashville, local or syndicated. His second book, Tax Revolt, was released in March of 2005.
On January 2, 2007, The Phil Valentine Show went into syndication and on January 27, 2012 Rocky Mountain Pictures released in theaters Valentine's documentary, An Inconsistent Truth. In February of 2012 the movie took second place for Best Documentary at the Appalachian Film Festival and also won the Excellence in Filmmaking Award at the Anthem Film Festival at Freedomfest in Las Vegas. But stay tuned…The most exciting chapter is about to be written.
The Phil Valentine Show is currently syndicated by Cumulus Media Networks and is heard on more than 30 affiliates across America.