We have recently changed players for our streaming broadcast.
You can LISTEN ONLINE by Clicking the LISTEN LIVE button at the Top of the page
OR Click the Play Button at the bottom of the Screen and the Player will play WHILE the KCMO website remains open.
You can also take KCMO and all your favorite hosts with you on your mobile device and never miss a show!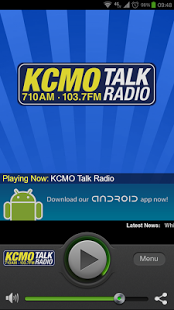 Listen to your favorite hosts wherever you want! Download the KCMO Talk Radio mobile app today!
Click below to download:


And get the iHeartRadio app at the iTunes and Google Play Store.